NADL Winter Daze 2018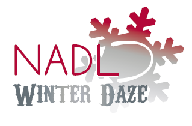 You asked for more in-person continuing education. What better place to offer this than at the Mid-Winter Meetings? NADL proudly presents a half day of educational courses at LMT Lab Day. Topics range from business planning and professional development to technical education.
The 2018 NADL Winter Daze will be held on Saturday, February 24, 2018 from 7:30a.m. - 12:15p.m. at the Hyatt Regency Chicago in Chicago, Illinois.
Click here
to view the full schedule and course descriptions. Speakers this year will include:
- Gary Morgan, CDT
- Alexander Wünsche, CDT
- Mark Williamson, CDT
- David Avery, CDT, TE
There is a discounted rate of $35.00 for Foundation donors to attend. This one fee gets you access to all of the courses! Plus, all funds will go to the Foundation for Dental Laboratory Technology to help support grant programs for schools, education and certification. The registration deadline is February 16, 2018. This course is limited to 100 attendees.
Register Online Here
Contact Deborah Caldwell at
dcaldwell@nadl.org
or by phone at (800) 950-1150 with any questions.